Description
TIBUKKYO Taiwan Derong Collection|Raw ore non-dyed malachite hand beads 6mm|Alxa beads
Accessories: Raw ore natural Alxa beads
(The surface layer of malachite in natural ore will have natural ore cracks)
◎Taipei City welcomes face-to-face delivery/can do a variety of customized collocations
◎Can be sent to Hong Kong, Macau/Singapore and Malaysia, delivered on weekdays, and delivered on the next day
◎Malachite is an ancient jade material whose main component is basic copper carbonate. The English name of malachite is Malachite, which comes from the Greek word Mallache, which means "green". In ancient China, malachite was called "green green", "stone green" or "green langgan". Malachite got its beautiful name because of its color resemblance to the green spots on peacock feathers. Malachite is produced in the oxidation zone of copper sulfide deposits, and often coexists with other copper-bearing minerals (azurite, chalcocite, cuprite, natural copper, etc.).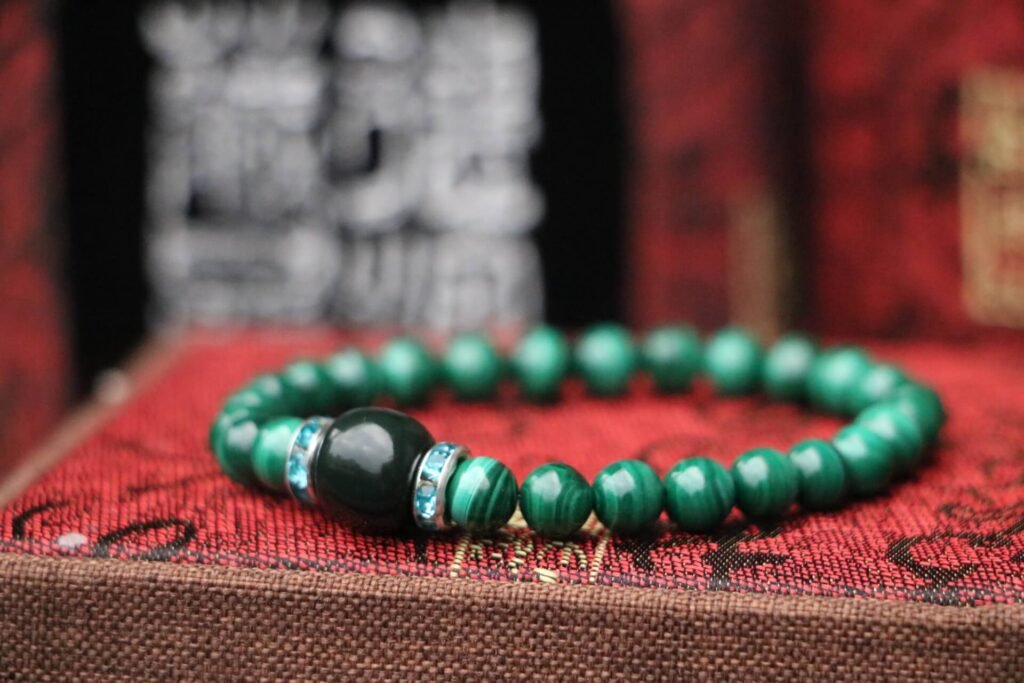 Introducing the Malachite Bracelet by TIBUKKYO – a stunning piece of jewelry that combines the beauty of nature with the elegance of design.
Crafted from genuine malachite, each bracelet features unique patterns and colors that make it truly one-of-a-kind. The deep green hues of malachite are known to promote healing and balance, making this bracelet not only beautiful but also beneficial for the wearer.
The Malachite Bracelet by TIBUKKYO is expertly crafted with a comfortable, adjustable band that can fit a variety of wrist sizes. The sleek design of the bracelet makes it perfect for everyday wear, whether you're dressing up or down.
As with all TIBUKKYO products, this bracelet is made with only the highest quality materials and attention to detail. Each piece is carefully inspected to ensure that it meets our rigorous standards of excellence.
Experience the natural beauty and healing properties of malachite with the Malachite Bracelet by TIBUKKYO. Add it to your jewelry collection today and elevate your style while promoting wellness and balance in your life.
Malachite identification grade method
Grade A: The color is darker, emerald green, black green and sky blue, with stripes and concentric ring patterns visible, dense structure, fine texture, high hardness and relative density.
Grade B: The color is light and emerald green, and the rings and stripes are often composed of pink and white and emerald green. Among them, the pink and white texture is softer, showing grooves, and the overall hardness is relatively high, and there are changes.
Derong Collection Encyclopedia-Synthetic Malachite:
As shown at the end of the picture, the top is man-made malachite, with rigid lines and no cold feeling to the touch.
For more details, please refer to related articles on malachite: