Description
TIBUKKYO Taiwan Derong Collection|Raw undyed lapis lazuli 6mm round beads|Warring States red agate|Moonstone beads
(This model is made into 2 circles around the hand, please choose the hand circumference that suits you when you place an order🙏)
◎Can be sent directly to Hong Kong, Macau/Singapore and Malaysia
◎Lapis lazuli is one of the seven treasures of Buddhism. The color of lapis lazuli is the body color of the Medicine Buddha in Tibetan Buddhism. The main composition of lapis lazuli is composed of four natural ores. Composed of dark blue Lazulite, white white Sodalite, light blue Hauynite and Noselite. The gold dots on the surface of lapis lazuli are pyrite. The white stripes are because they contain more sodalite, so lapis lazuli is the top grade with less gold, less white, and deep blue.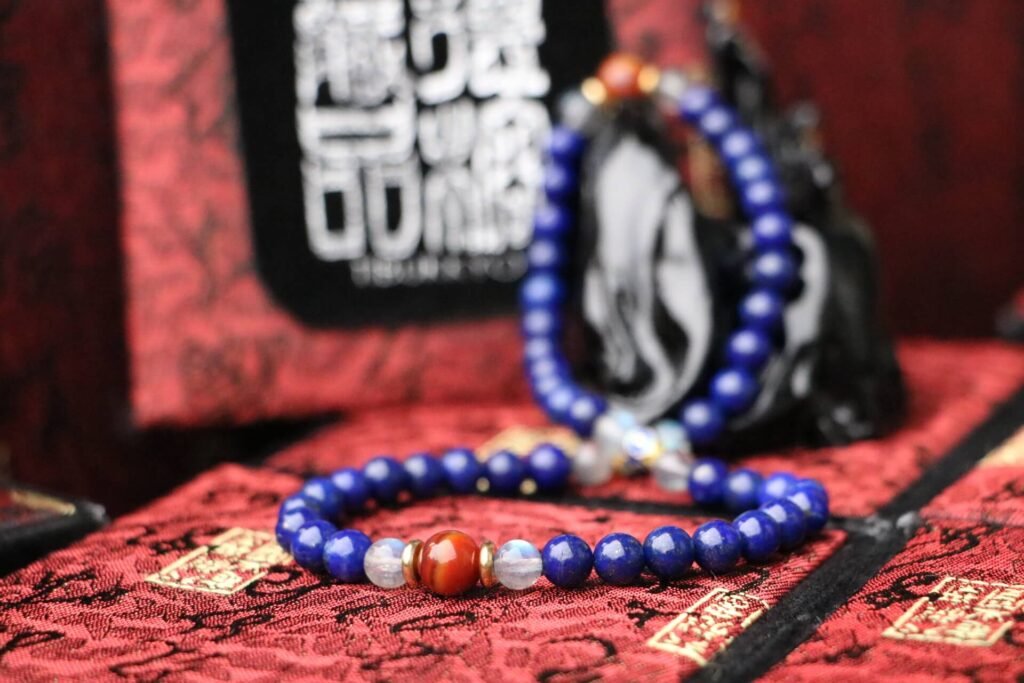 How to tell if lapis lazuli is dyed?
Many lapis lazulis on the market are baked and dyed. Soak lapis lazuli in alcohol to know whether it is baked or not. If the color fades, it is dyed. And if the lapis lazuli has more gold and more white (more sodalite), it is a defective product with relatively poor quality. On the contrary, if it has less gold and less white, it is a high-grade lapis lazuli. Generally, lapis lazuli is the same as southern red agate. Larger-sized lapis lazuli can achieve less gold and less white. Most lapis lazuli with a size of more than 10mm will have white blocks or white spots on the part of sodalite. .
Many lapis lazulis on the market are baked and dyed. You can soak lapis lazuli in alcohol to know whether it is baked or not. If the color fades, it is dyed. Generally, heavily dyed lapis lazuli will fade immediately when exposed to alcohol, and some lightly dyed and roasted lapis lazuli will not fade immediately after encountering it, but the color difference of dyeing can still be seen after soaking for a period of time. However, this test method is not suitable for frequent testing, because lapis lazuli cannot be exposed to aggressive alcohol for a long time, and it is exposed to the sun for a long time, which will affect the fineness of lapis lazuli.
How should lapis lazuli be maintained? what's taboo
Lapis lazuli should avoid high temperature, because it will affect the luster and color of lapis lazuli under a certain amount of strong light, so you should pay special attention to outdoor activities and try to avoid strong light. In addition, it is not recommended to soak lapis lazuli for a long time (this is different from clams), because the structure of lapis lazuli is loose, and long-term penetration of water will affect the color and aesthetics of lapis lazuli, so lapis lazuli should be taken off when bathing; Avoid acid-base chemicals such as shampoo, shower gel, cosmetics, perfume, etc., which are likely to cause chemical reactions on the surface of lapis lazuli and cause corrosion damage.
---
TIBUKKYO Derong Collection
TIBUKKYOWe are Taiwan handmade beads design brand - TIBUKKYO, we believe that adornment is not just about looking good, but also about feeling good and connecting with the spiritual world. That's why we offer a wide variety of spiritual adornments, including Bodhi seeds, Southern Red Agate, natural Tridacninae, Six Realms Wood, Burmese Yellow Jade, Tiger Eye Stone, and more.